Happy Thanksgiving Day 2020
Happy Thanksgiving Day, November 26, 2020!
To celebrate the thanksgiving day with the people of the United States, Canada and the world, AKC family would like to mark 3 special events happening this years:
1- AKC school employed 4 full-time staff (Chhay, Meam, Hak, and Sam) to work as Teachers of English and other tasks. AKC organizes its school and organization with the highest profile of teamwork plus volunteers. Thanksgiving to Helpucation e.V. in Germany for making this happen even in this super difficult situation of the pandemic.
2- Thirty most underprivileged students got sponsorship with monthly monetary support till they finish their high school. This program has also a vision to reintegrate those students to their career life like: placing them in the vocational training school after their high school. Thanksgiving to Child Foundation in the United States for making this happen. And in addition to this Sponsorship program, those students also received Bicycle and school backpacks for each.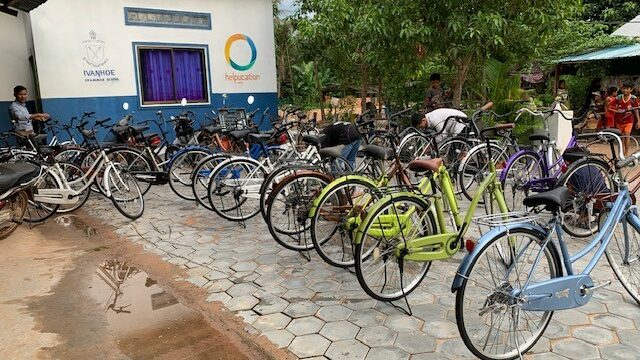 3- The recent Fundraising Campaign of the roof replacement project has got over expected support. With Helpucation e.V. are also in a big part of that project fill in of any lack. By now, the fundraised online is USD 1225, we are still open to accept further donation till end of December 2020.
Again, AKC and AFK family are absolutely very grateful for all of your support. We are doing our best to invest the maximum potential of ours into this school project.
Happy Thanksgiving Day! We wish you all healthier and Happy!