Volunteers Farewell and Welcome Event
AKC celebrates with all our volunteers on their Future career and Learning.
In the recent official Volunteers Farewell and Welcome Event celebrated at Angkor Kids Center school on May 23rd, 2022, lead by Mr. Hak Hien, the school and organization Executive Director at Angkor Kids Center and All For Kids Organization.
As part of the ceremony, AKC presented the official Appreciation Letters to all our seven volunteers who are leaving their permanent volunteering services at AKC. These volunteers including
| | | |
| --- | --- | --- |
| No | Names (Left to Right from the Picture below | |
| 1 | KHON Chert | |
| 2 | HOUY Chandeng | |
| 3 | LIEM Kha | |
| 4 | HOS Nisa | |
| 5 | NGEK Ran | |
| 6 | SOK Toeurn | |
| 7 | PEN Mesa (absent) | |
Most of them have been volunteering teaching basic English to young children with AKC school since 2018. The reasons for leaving are their professional career development studies to different colleges in Siem Reap town center. And some are continuing to university.
This event also launched to officially welcome our nine newly joined volunteers. All of them are currently studying English and computer at Angkor Kids Center. These nine local volunteers are:
| | | |
| --- | --- | --- |
| No | Names (Left to Right from the Picture below | |
| | HIEN Sokphan | |
| | SOUNG Savny | |
| | LEK Nisa | |
| | KIM Naret | |
| | REY Vanny | |
| | HAK Sreyroon | |
| | POUERK Phon | |
| | VIREAK Sreyneth | |
| | PIET Ponlue | |
| | SIEN Salin | |
| | LOUERT Kanha | |
| | SAMBATH Boremey | |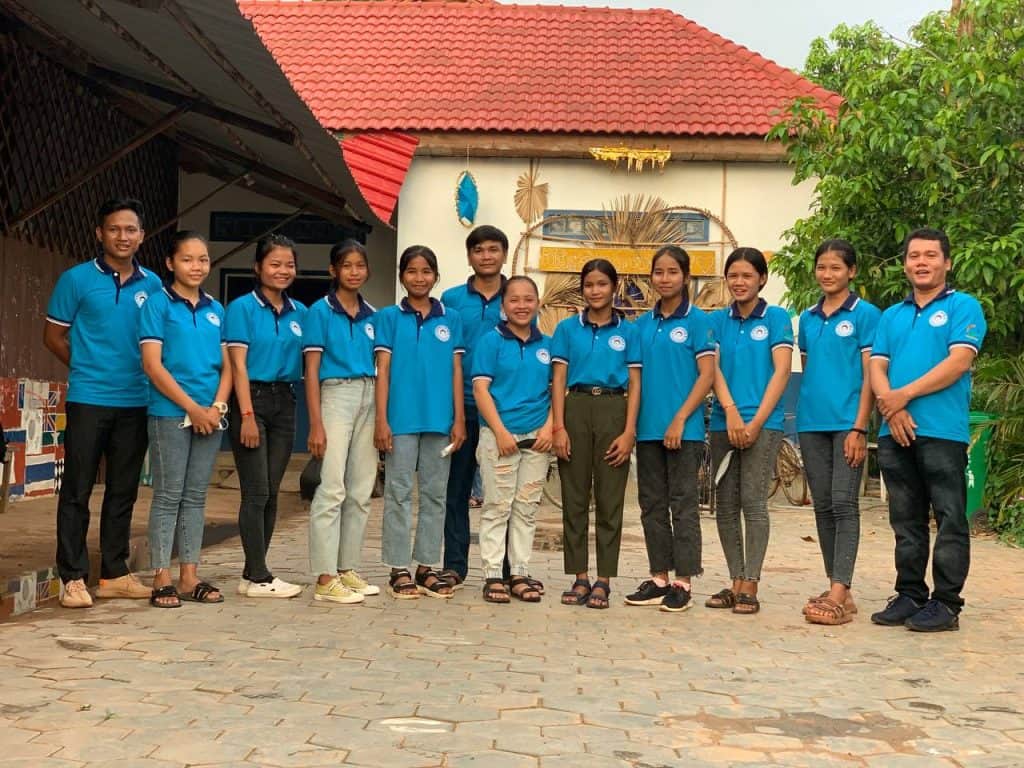 All of them are assigned to teach the basic English to the young children and also help with office work where needed.
Sam, the Founding Director of Angkor Kids Center and All For Kids Organization, took a short lecture sharing the inspirational stories of the school and his life development with pressing on the benefits of volunteering. From there, he made a formula to calculate the Value of volunteering as One minus One equal Two multiply by x (1-1=2*x). Sam explained that by volunteering is giving which means Minus(-), the more volunteers extract their knowledge to share to others, the more they gain from that sharing. The X representor from the "Two multiplies by X", it can be any numbers and only volunteers themselves know and feel this. This formula reflecting a Khmer proverbs says "វិជ្ជាជាទ្រព្យជាប់នឹងប្រាណចាយច្រើនរឹតតែចម្រើនឡើង កន្ដៀមិនកោរកណ្ដុរមិនកាត់ មិនអាចខ្លាចបាត់ ខ្ចាត់បង់ទៅណា។'' This means knowledge is a treasure exists in oneself, the more they spend, the more the gain. There is nothing can harm or steal it.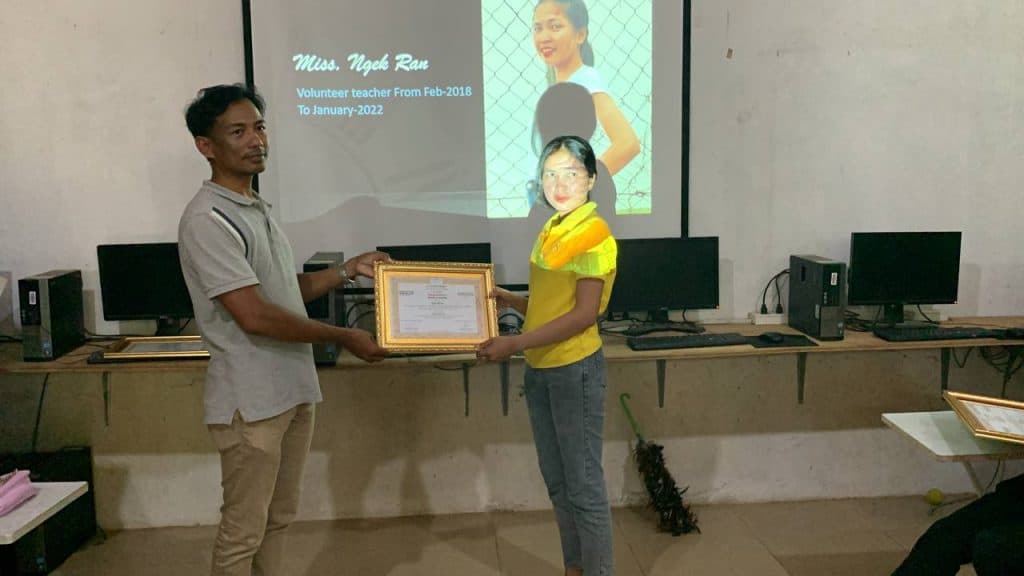 Sam also added that there are many opportunities as well that volunteers can get for instance monthly sponsorship cash allowance, enrolling to some internal and external capacity building, and scholarships to various colleges and institutions, like Haven Cambodia, Paul Dubrule tourism schools etc.
The event was ended with a Buffet dinner to a local BBQ buffet dinner in Siem Reap for all volunteers and AKC staff. The travel also arranged to shuttled by a coach. This the first gathering in town for everyone since the Covid-19 pandemic started.
Last but not least, everyone are really appropriate and found a great pride in themselves working and volunteering with AKC school and AFK NGO.
Thank you so much for all your support especially Helpucation e.V to lift us up here. We AKC team on the ground are highly committed to do our best to benefit our children and grow them.
Getting inspired and wish to support our course, visit our partner foundation in Germany Helpucation e.V. or contact Sam, the school founder, phone 📞 +855 86 524 777 | email 📧 sam@afk-ngo.org